The North American Aviation T-6 Texan
---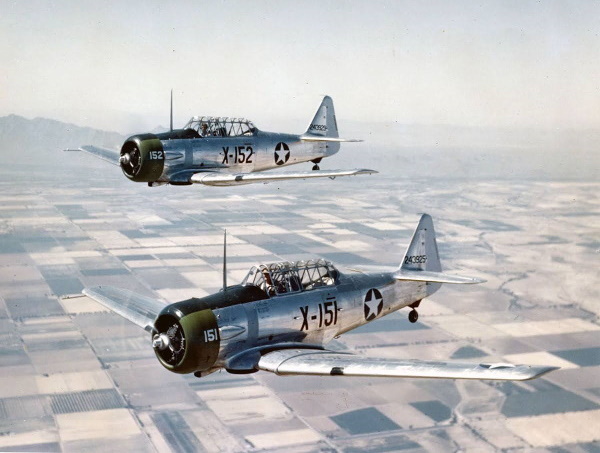 ---
Oy NAVY WINGS Ltd is the Finnish Company. The company offers Air Shows mostly in Finland, but also in Scandinavia and Baltic countries.
Company owns Legendary AT-6 (A), SNJ-3 Navy model aircraft, "TRICKY MARE", OH-NAT. The Aircraft base is in Kotka, Karhula Airfield.

The North American Aviation T-6 Texan is an American single-engined advanced trainer aircraft used to train pilots of the United States Army Air Forces (USAAF), United States Navy, Royal Air Force and other Air Forces of the British Commonwealth during WWII and into the 1970s.


Designed by North American Aviation, the T-6 is known by a variety of designations depending on the model and operating air force. The United States Army
Air Corps (USAAC) and USAAF designated it as the
AT-6
, the United States Navy the
SNJ
, and British Commonwealth Air Forces the
Harvard
, the name by which it is best known outside the US.

Starting in 1948, the new United States Air Force (USAF) designated it the T-6, with the USN following in 1962. It remains a popular WarBird aircraft used for Air Show demonstrations and static displays. It has also been used many times to simulate various Japanese aircraft, including the Mitsubishi A6M Zero, in movies depicting World War II in the Pacific.
A total of 15,495 T-6s of all variants were built.
North American Texan SNJ-3
---
---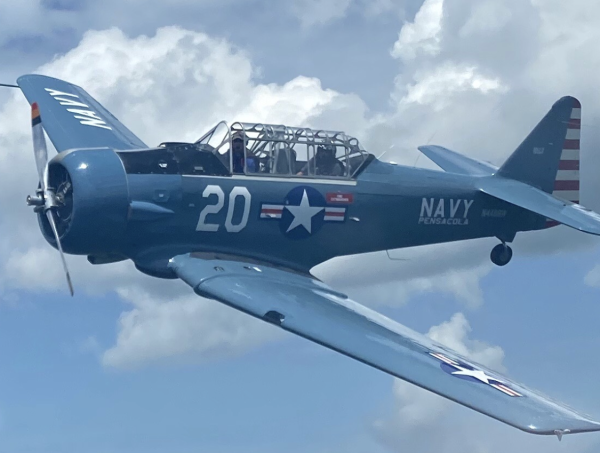 North American Texan is a real Legend of the Sky. It has been called as a nick name; "Pilot Maker".
T-6 Texan was designed as a training aircraft in 1934, but was used as a fighter, forward air controller, advanced trainer, fighter-bomber and interceptor. T-6 became one of the most important aircraft of WWII.
In 1941, at Tuskegee Army Airfield, Alabama, the T-6 was used to train the famed African-American fighter Squadron, the "Tuskegee" Airman, which became one of the most respected fighter groups of the WWII.
Texan is very demanding aircraft to fly. Its flight characteristics requires good knowledge of the aircraft and good pilot skills.
It has been said:
-"if pilot can fly Texan, he can fly any other Warbird"
-"if you have five hours experience with Spitfire, you can fly Texan, maybe"
Those are funny metaphors but they hold the truth.
Are you interested in flying with us?
---
---
PUBLIC FLIGHTS ARE NOW AVAILABLE!

Please do not hesitate to contact us if you want to fly with a real Fighter or have an Air Show of your own!
---